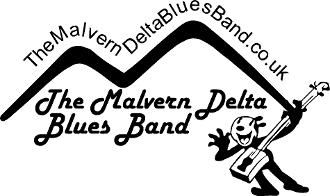 The Band
MDBB
Lefty Peter - Lead Vocals /Guitar & Harmonica
Cigar Box Spike -Bass Guitar /Vocals / Cigar Box Guitars / Stomp Box
Guitar Man Alan - Guitars / Acoustic Guitar / backing Vocals
Drifter David - Drums, Cajon, Percussion
Arsey Marcie - Guitars / Acoustic Guitar
Bio's - Meet the Band !!!
Caterwauling & Dirge Sections
Lefty Peter ...With the old left handed Gibson guitar swinging from his neck Peter makes an absorbing sight. A little dusty, old and in need of the cobwebs blowing out ( the guitar of course not Peter) it still makes a great sound. Oh... and so does Lefty as he can really sing too! He also plays harmonica and must be descended from those great players of the Harmonica wars of 1927.......Lefty arrives for rehearsals having crossed the great Malvern Divide from the Herefordshire side.....we just hope he never forgets his passport!
'Cigar Box' Spike …has traced his lineage way back to 'Short sighted pear tree' Jackson who lived and worked in those Halcyon days and actually played a 'Diddly Stick' made of applewood and the single string on this fretless masterpiece was made of mistletoe vine (common in the area). The body of the instrument was made of discarded Doormice nests harvested from the Malvern hills themselves and fashioned into this ancient but remarkable musical instrument. Spike has updated these instruments with his collection of 'Cigar box' guitars and works on the premise that if has enough of them eventually one of them will be in tune.
'Drifter' David ..when not travelling the length and breadth of Britain in his battered old camper van, or stowing himself away in the goods carriages of trains, Drifter can be found beating dustbin lids with baseball bats on top of the Malvern hills. Clearly he hails from somewhere, but this is as yet, unknown. Certainly he's not from the Malvern Delta….but there is some drumming lineage within him that makes him hit those drums HARD....is he Bill Ward's long lost baby brother? !!!
Alan 'The Guitar Man' freely admits he has too many guitars and that he actually can't play any of them. Still, they are lovely to look at and if only he could play on one or two of them just think of the music that could be made …..He continues to bring a different one along to every band practice and gig in the hope that one day someone might hear him try. However his amp is always turned down too low to hear him so no one actually knows if he can make a decent noise. One day it is hoped that a couple of his amps may be fitted with a volume knob that can be turned up ..perhaps to 11? who knows? Alan has traced his blues ancestry back to 'Silent Boy Shhhh' who also played without an amp.
'Arsey Marcie' is Malvern's answer to Bonnie Rait. The only slight difference being that she can neither sing nor play guitar. However the attitude is there and that spawns her nickname 'Arsey'. She is also very good at organising and making the tea. Perhaps she needs to take a good look at gender specific roles within the band and start making some changes? Not rumoured to be descended from any of the great Malvern Delta players simply because no one with as little talent as she possesses could ever be from those 'greats'. Luckily the other band members are too scared of her to fire her.
The Band
MDBB
Lefty Peter - Lead Vocals /Guitar & Harmonica
Cigar Box Spike -Vocals / Cigar Box Guitars / Bass Guitar /Stomp Box
Guitar Man Alan - Guitars / Acoustic Guitar/backing Vocals
Drifter David - Drums, Cajon, Percussion
Arsey Marcie - Guitars / Acoustic Guitar
MDBB Guests
Additional occasional vocals from Kantankerous Ken
Technical Tim - Drums
Junior Josh - Drums
GUESTS
Guest vocals
Kantankerous Ken - Ken is our guest vocalist, who will cover for us if we need him. He gets his name from the the Can of beer that is always at his feet when he sings ....it is great fun predicting when said can/kan -will be kicked over ....Ken is in another band so won't actually 'Join' the MDBB ...but perhaps we'll keep working on that ....?
Guest Dirge Section players :
Guest Drummers
Technical Tim - Tim is one of our stand - in drummers, for when others decide to go (heaven forbid) on holiday or just want to darn their socks ready for winter. Tim is a great drummer, very technical, so much so that he already plays in three other bands (including one with Kantankerous Ken ) ..we've no idea why he bothers to help us out?
Junior Josh - Junior hails from the east side of the delta ..a near neighbour to 'guitar man' Alan and so has to travel a fair distance to rehearse. Luckily, Junior Josh has his own private roadie, chauffeur and all round dogsbody (his Dad) to assist !! Junior is almost as old as the rest of the band with only 40 or so years separating him from the next youngest ! Junior has a dynamic free flowing playing style and already is making a name for himself .... his recent performances have been top notch ! a brilliant prospect !
Technical Support
Thanks to Roadie & Filmcrew Aimee Goodenough
Ex Band Members
We say goodbye and thanks to our exband members

'Lazy' Viv Simply can't be bothered to learn any instruments. Although it is rumoured that 'Lazy Viv' is directly descended from the great 'Horizontal Horace' of the 1920's who pioneered the Malvern Delta Blues sound with his ability to play 17 instruments at once including the legendary 'blues nose whistle' we suspect this cant be true as 'Lazy Viv ' can only play a fraction of those instruments rumoured to be among 'Horizontal's' repertoire. Despite efforts to encourage him Lazy Viv only plays Guitar, Bass guitar, Harmonica, Synthesiser, Drums, Violin, Bodhran and flute. Still we live in hope that he can be one day do something useful.
Learned Leandra - is barely qualified to be part of the MDBB ....she is proud to have just become accepted as a fully qualified Roadie for the band as well as showing a remarkable aptitude to make the tea, adjust the lighting, put out the chairs and generally be helpful. She comes from South of the Delta and potentially could be an asset to the band...... We are not sure how really but perhaps her music degree and ability to play brilliant sax could eventually point us in the right direction?